Sustainable & regional
80: 80. The credo that we live at Gut Steinbach is easy to explain. 80 percent of the food that we process in our hotel comes to us from a maximum of 80 kilometers away. In this way, we not only maintain regional trade and support the Bavarian economy, but can also serve our guests the best of Bavaria. Honest, authentic and sustainable. The use of fairly produced food that has a short way to the consumer is very important to us and is also reflected in the quality of the dishes from our kitchen.
FROM THE REGION FOR THE REGION
Chef Achim Hack takes this philosophy, which he takes for granted, a little further and grows a lot of food himself. Fine herbs grow in the hotel's own garden, the aromas of which could not be fresher and which give the creative kitchen the finishing touch. And with meat products, too, we attach great importance to knowing where the animals grow up, how they live and how they are ultimately slaughtered. At Gut Steinbach, unlike the hotel industry, sustainability is not simply implemented, it is actually lived and is therefore an essential part of our philosophy, which you as a guest not only feel, but above all taste.
This philosophy therefore also includes selecting your suppliers according to special criteria and building a personal relationship with them. Most of our suppliers therefore not only come from the local area, but are closely connected to us, each in their own way. On the one hand, we know where the food comes from, that it is produced with dedication and thus also support the local economy. Ultimately, that is Bavaria in its most beautiful form and Gut Steinbach absolutely lives up to its role as a refuge for home.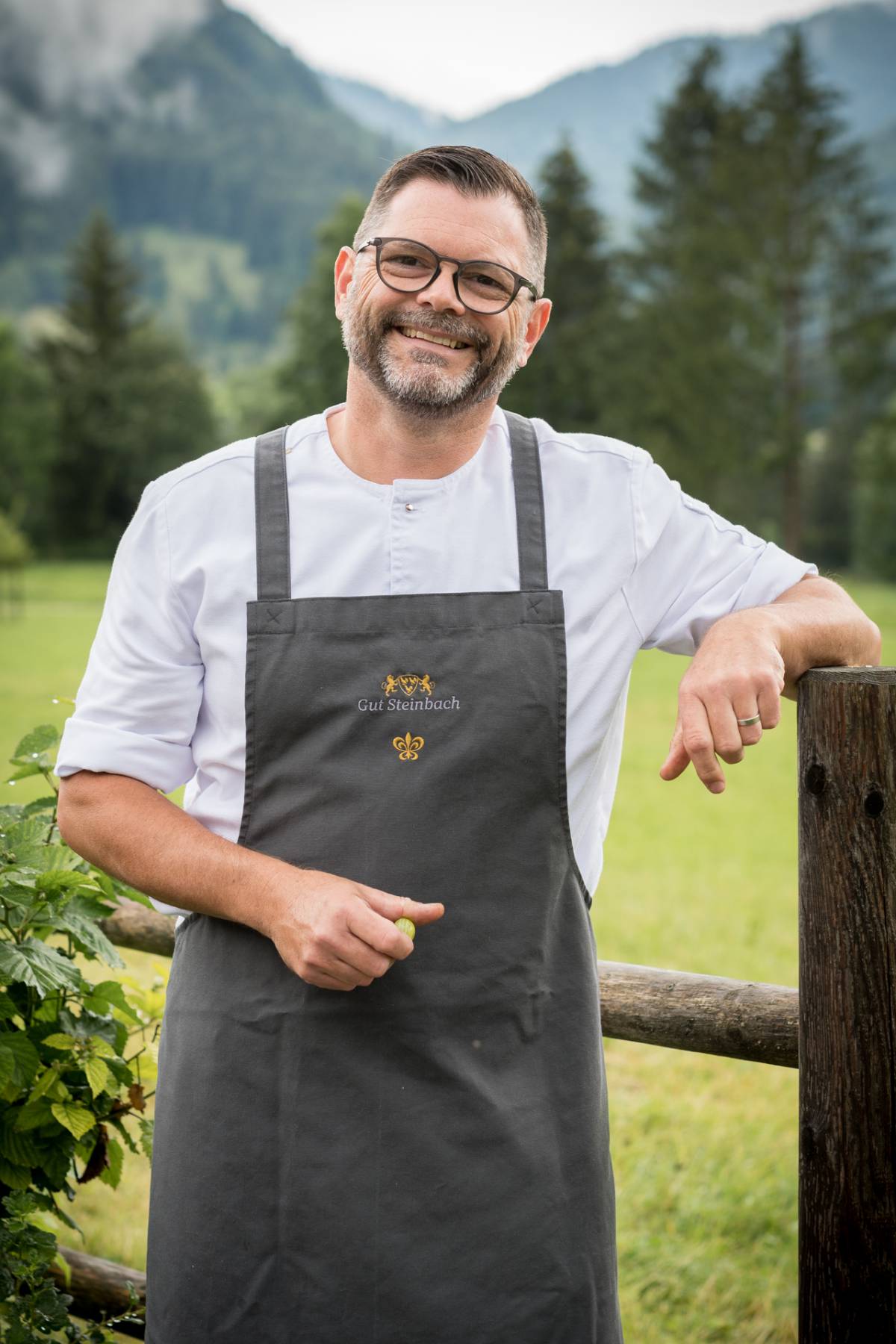 ACHIM HACK
Born in Karlsruhe, he has been responsible for the kitchen at Gut Steinbach for several years now, awarded as a Farm to table Chef (Der Große Guide 2020) and awarded by Feinschmecker for his future-oriented cuisine. Achim Hack lives and loves this task and fulfills it with a noticeable passion for food and the opportunities that arise from it.
It is not uncommon to find our head chef in the hotel's own herb garden or in the farm. His weakness for sustainable cuisine with a strong motivation to implement it in a regional way, but still with a special pinch of creativity, is reflected in the menu, which changes almost daily. Following the credo of sourcing 80 percent of the products from a maximum of 80 kilometers away, whatever is currently available is cooked. Vegetables, fruit and meat do not like long journeys into the kitchen - a principle that benefits both quality and ultimately taste.
In conclusion, the only thing left to say is: Well received!
Noticeable closeness to nature
In addition to buying sustainable and regional food, there are many other points in a hotel that make sustainability possible. Since we look forward to the future with pleasure and accept challenges, we optimize where we can. This can be illustrated very appropriately using the example of our chalets. If you have already lived in one of the seven chalets, you will surely know what we are talking about. The woods used all come from the surrounding area and have been treated exclusively with natural oils - this quality can not only be felt, but also ensures the unmistakable scent that characterizes wood for many years. The natural pond does not bear his name for nothing either. Sure, it is artificially created, but without the use of a pond liner. Instead, a layer of clay protects the soil from leaking water. This also comes from a spring that rises one kilometer away from Gut Steinbach and guarantees cool refreshment when jumping into the pond in summer.
NATURAL HEAT THROUGH BIOMASS
Energy is also an important topic in Reit im Winkl. The Reit im Winkl biomass cogeneration plant supplies sustainable heating. The system not only supplies our Gut Steinbach with regionally generated energy, but also saves more than three million liters of heating oil and improves the quality of the air we breathe in and around Reit im Winkl.
It goes without saying that we also ensure that we are conscious of the environment in those areas that are more than usual for our daily lives. Among other things, we switched our lighting to LED technology many years ago and also equipped the taps with aerators, which reduce the amount of water, but do not represent any noticeable disadvantage for our guests and employees. When it comes to laundry, too, we make every effort to reduce both water and the inevitable use of detergents, so unless you wish, we do not change bed linen and towels every day. Only laundry that is on the floor is changed daily.
FOR A FUTURE WITHOUT PLASTICS
As a member of Relais & Châteaux, we are particularly committed to the environmental goals of this international hotel association. In this way we avoid the use of plastic, reduce packaging waste to a minimum and try to coordinate this approach with our suppliers. We also proceed conscientiously when it comes to waste separation and train our employees at regular intervals so that we can look forward to a plastic-free future in good spirits.