Restaurant HEIMAT
Top Restaurant in Reit im Winkl
The HEIMAT restaurant with its three lounges in Reit im Winkl is a very special place to explore the culinary subtleties of head chef Achim Hack. In the restaurant, which has been furnished with great attention to detail, our definition of local cuisine is also lived in the ambience - and loved by our guests.
In addition to the lovingly designed HEIMAT, which, as the name suggests, makes a special reference to our roots, conveys values that inspire us and creates a very homely feeling of security, we welcome our guests in three additional rooms. In Bavaria, a parlor always has the character of a living room and used to be the only room in a living room or farmhouse that was heated. The family life therefore mainly took place in the living room. Accordingly, we connect our rooms with a feeling of security and at the same time see them as a place of communication and shared enjoyment.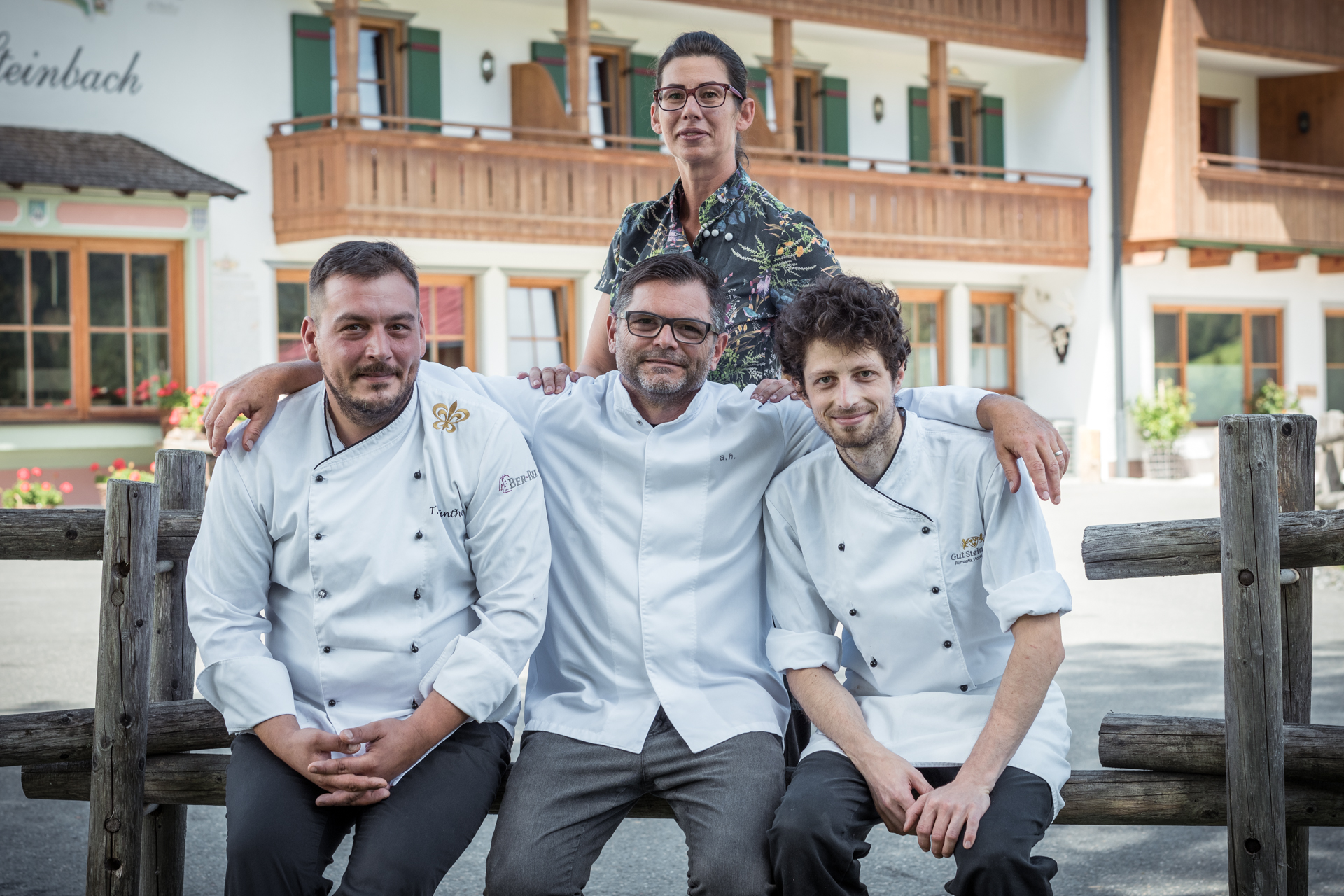 Chef Achim Hack and his kitchen team that creates all these culinary dreams for our guests.
In keeping with our demand for individuality, we would like to give our guests an impression with the different design of the three rooms, which currents in Reit im Winkl have their influence and how the values in the area behave. So you have the choice between the Auerhahn Stuben, the Bayern Stuben and the Tiroler Stuben. The former deals with its tiled stove and the focus on the wild animals of the Chiemgau with the traditional craft of a hunter and looks a bit like a rustic hunting lodge in the mountains. A little further north of the mighty Alps is the Bayern Stuben, which with its lighter wood, plenty of daylight and wood paneling creates a cozy atmosphere. The Tiroler Stuben, on the other hand, is already deeper in the Chiemgau in terms of name and appearance and makes use of the influence of our neighboring country. The darker and heavy wood can be found on the ceiling, walls and floor, but is loosened up by fine carvings and light-colored fabrics and thus looks particularly stylish.
The menu is identical in all rooms as well as in the Heimat restaurant. To reserve your table, please use our inquiry form or call 08640/8070.

As a restaurant and hotel with the Green Star award from the Michelin Guide, we offer varying vegetarian dishes both on our normal menu and in our daily changing 3-course half-board menu. However, we ask for your understanding that we only offer very limited vegan dishes.
Restaurant HEIMAT Opening hours
Monday to Friday:
Breakfast from 7.30 a.m. to 10.30 a.m.
from noon.: small snack menu in our bar and salettl 
from 6:00 p.m.: à la carte in our restaurant (kitchen closes at 9:00 p.m.)

Saturday, Sundays & holidays:
Breakfast from 7.30 a.m. to 11.00 a.m.
from noon.: small snack menu in our bar and salettl (à la carte until 1:30 p.m.)
from 6:00 p.m.: à la carte in our restaurant (kitchen closes at 9:00 p.m.)
We will be happy to take your table reservation at tel. +49 8640 807-516 or by mail at info@gutsteinbach.de.